Clean Genome® E. coli has eliminated inherent troublesome and unnecessary genes to create a production host that generates recombinant proteins and nucleic acids efficiently and continuously without compromising the product or the process.  All strains are derived from the revolutionary MDS42 reduced genome strain described in Science 312:1044-6, and are further deleted to create the MDS69 series (see below).
Heritage strains of E. coli including the original isolate from a TB patient of 1919 are still widely used in academic research and commercial production including pharmaceuticals for humans, despite the DNA sequence from 1997 showing that ~25-30% of the genome is a chimera of horizontally transmitted genes, many of which are detrimental to research and to the commercial enterprise.
Scarab has engineered "Clean Genome® E. coli" deleting problematic genes to make it safer, produce biopharmaceuticals more reliably and more efficiently. Examples of these improvements include: 1) removal of bacteriophage, bacteriophage remnants and phage absorption sites from the genome. Many millions of dollars are spent on required phage testing which almost always shows some level of contamination. Frequently these prophages cause lysis or partial lysis in production. These problems have been eliminated at the source with Clean Genome® strains.  2) Elimination of auxotrophies, which has facilitated the use of inexpensive fully-defined minimal media that contain only sugar and salts.  Clean Genome® strains thus eliminate the need for expensive "veggie broth" media —  animal broth is regarded as a potential source of prions creeping into pharmaceutical products and thus needs to be avoided. 3)  A dramatically reduced mutation rate.  Mutation during culture is a key source of strain instability.  With most strains of E.coli, mutations accumulate so fast that fermentation yields fall within days to unacceptable levels. The reason is that non producer mutants are relieved of the metabolic load of production, and thus selected during fermentation and soon take over the culture. Not so with Clean Genome® E. coli strains, which are sufficiently stable to support months of continuous fermentation.  4) Elimination of all transposable (IS) elements.  Typical E. coli strains contain 50 to 100 of these elements, which can and do transpose into the genes encoding the products to be expressed, or into regulatory elements, and possibly into the human genome.
Clean Genome® E. coli is thus safer, more reliable, and more efficient than strains in popular use, and further offers the option of continuous fermentation for biopharmaceuticals production.
Clean Genome® E. coli Demonstrated Effective at Producing >20 Proteins + Nucleic Acids:
Proteins
CRM197, Protein D, Exoprotein A
Sc-Fab Antibody Fragment
SG-Darpin Antibody Mimic
Interferon, Gelsolin
Green Fluorescent Protein
CSN-1 Milk Protein
SmyD3 Histone Methyltransferase
Shiga Toxin A, G-Protein
Alkaline Phosphatase
ANAX1 Immunomodulator
GP2 Phage Protein
Nucleic Acids
Plasmid vectors
Retroviral vectors
Lentiviral vectors
shRNA vectors
DNA vaccine
View our range of Clean Genome® E.coli  strains
Choosing the best competent cells for your cloning applications or workflows is an important contributor towards efficient production. All Clean Genome® E.coli strains are available in either chemically competent or electrocompetent forms to match your transformation needs.
In addition to the impact of having a reduced genome, protein production levels in Clean Genome® E. coli are enhanced when using the pSX2 expression vector.
Request a Custom Quote
In addition to the strains in our online catalog, we have an extensive library of Clean Genome® E. coli strains with various additional genetic modifications, and can also create custom strains based on your specifications. Please fill out the form below to request a custom quote.
Characteristics of Clean Genome® E. coli strains and the benefits of using them as production hosts:
Characteristic
Benefit
~20 % of the genome deleted.
Production efficiency enhanced.
Genome readily engineered for custom projects.
All mobile DNA elements, plasmid & phages deleted; recombination and error-prone repair systems disabled.
Genetic stability.
No induction of cryptic phases that can lyse entire fermentation batches.
Long-term continuous productions by fermentation.
Insertion element-free nucleic acid preparations.

Custom protease gene deletions.
Proteins produced in intact form.
Growth on fully defined minimal medium.
Reproducible production process.
Simplified purification.
Overview of Development of Clean Genome® E. coli Strains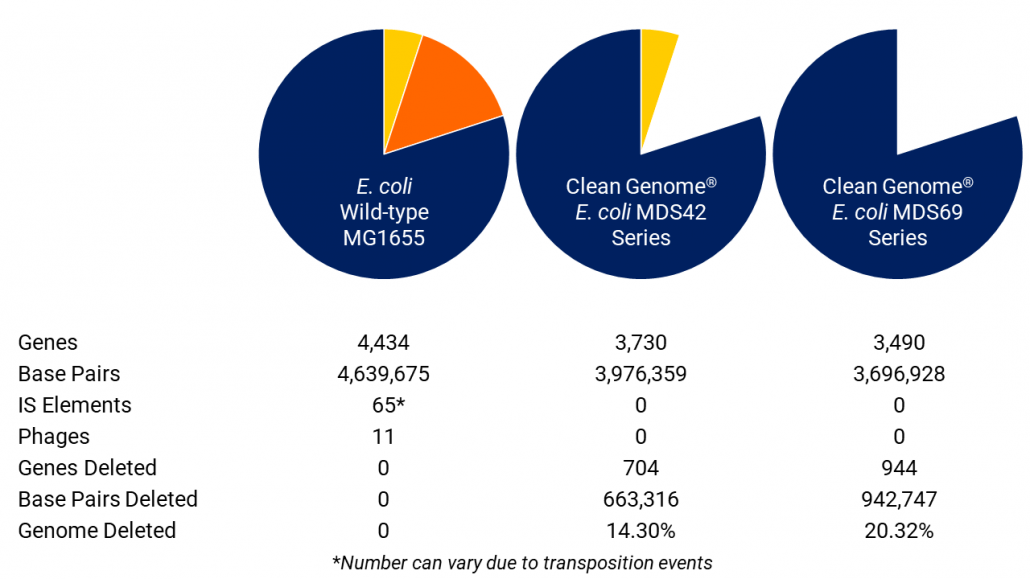 Dramatically Reduced Mutant Frequency – "LowMut" strain
Mutations are rare in E. coli but in the high density, high volume environment of biopharmaceuticals production, even rare mutations may arise that can be deleterious to the production process or to the product itself, and long-term continuous production would be challenging without reduced mutant frequency due to evolution of favored mutants such as those that produce poorly.
Clean Genome® E. coli "LowMut" strains have been engineered to reduce error-prone repair, which reduces the mutation rate to almost zero, even under the most stressful conditions.
To demonstrate the impact of engineered "LowMut "strains on mutant frequency, the cells were grown under extreme stress to increase mutant frequency to a level that would facilitate compelling statistical significance for the improvement. The plasmid used expressed a toxic protein to maximize the stress response, which is mutagenic. Mutants in the plasmid-borne cycA (cyclosporin-resistance) gene were then counted by a simple plating assay.
Cleaner Products
With a higher level of recombinant protein expression and fewer host cell proteins, Clean Genome® E. coli strains are the optimal production hosts to enable streamlined downstream processing.
As an example, gelsolin, an actin-binding protein, was produced in BL21 (DE3), a traditional host, as well as in a Clean Genome® E. coli host.  Protein was then purified using standard 3x chromatographic steps. A cleaner gelsolin product with fewer impurities was present using Clean Genome® E. coli as the expression host, simplifying the downstream processing.
Freedom from the Tyranny of Insertion Elements
E. coli strains normally used for biopharmaceuticals production contain multiple IS (insertion sequence) elements which can insert into:
The gene for the target product, resulting in mutant product
The regulatory elements used for expression, resulting in poor yields
Possibly the patient's genome (Zhang et al. Merck & Co. Inc., Gene Therapy volume 11, 711–721(2004))
Clean Genome® E. coli is engineered to be completely free of IS elements removing the risk of IS-induced mutations. In addition to the danger of IS elements transposing into genes or regulatory elements of interest, commercial nucleic acid preparations from other vendors typically contain multiple IS elements.
The ubiquitous impact of IS elements was apparent when the first whole synthetic organism – a strain of the bacteria Mycoplasma mycoides – was carefully engineered; after intermediate passage through DH10B, a regular E. coli strain, its genome was found to be contaminated with IS1.
(Gibson, et al., Science 329:52, 2010)
Insertion Detection Sequence Kit
The insertion sequence (IS) detection kit tests for the presence of all known specific E. coli IS elements in any DNA sample of interest.
Insertion Detection Sequence Kit
The insertion sequence (IS) detection kit tests for the presence of all known specific E. coli IS elements in any DNA sample of interest.
Increased Stability of Troublesome Nucleic Acid Structures
Vectors such as those from lentiviruses typically contain hairpin-loop structures that are unstable in traditional E. coli hosts, resulting in the vectors being deleted for the hairpin loops. By contrast, hairpin-loop structures are retained in Clean Genome® E. coli (green arrows indicate hairpin loops):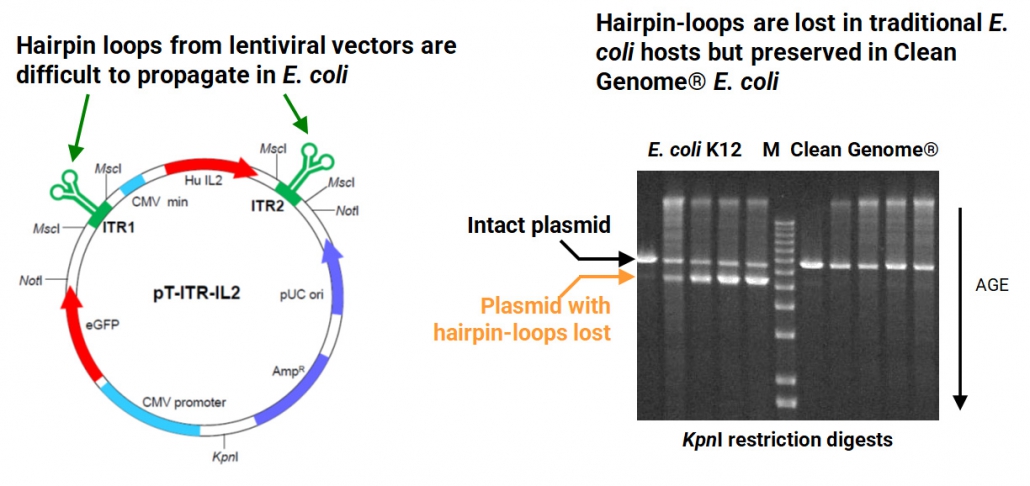 Scientific Publications
To find out more about the technologies that underpin our Clean Genome® E. coli strains review our scientific publications.