Description
The ScarabXpress®-2 Protein Expression System consists of the pSX2 expression vector plus your chosen Clean Genome® E. coli host strain.
A 3,000-fold induction range is achievable, and strong repression of the patented synthetic T5 promotor prior to induction facilitates robust healthy growth of cultures to high density.
The high strength synthetic T5 promotor in combination with limited plasmid copy number enhances production of recombinant protein product without wasting energy on plasmid replication.
Tight regulation of the basal level of transcription prior to induction keeps background expression low, key for target genes that are deleterious to the host.
pSX2 is compatible with all Clean Genome® E. coli strains.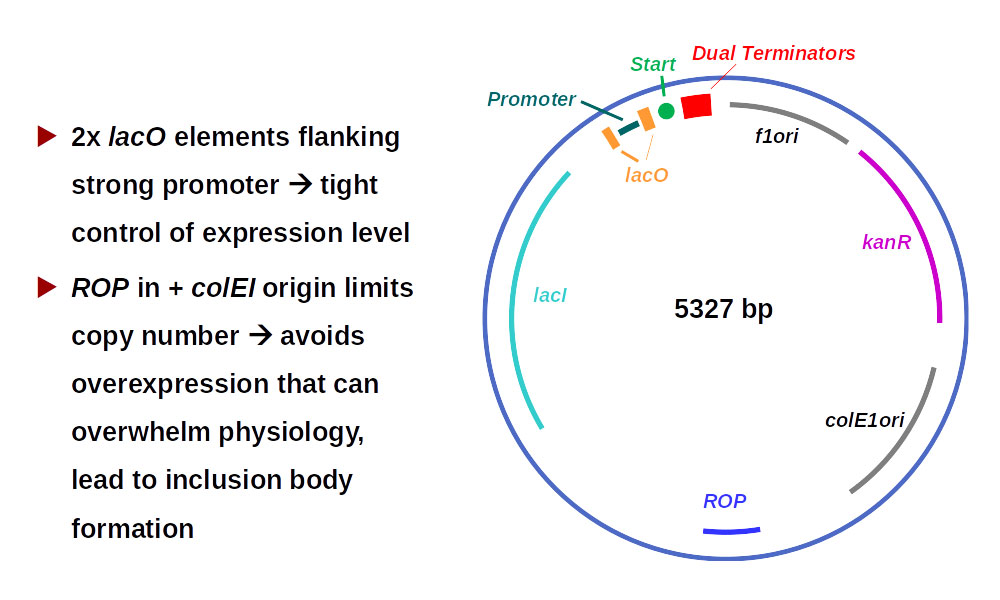 Kit Components
pSX2 Expression Vector, 10 μg in 10 mM Tris-HCl, pH 8.0, 1 mM EDTA
Quality Control
The vector is confirmed to be IS-free and for functionality.
Storage
Store at ≤ -70 °C. Do not store in a frost-free freezer.
Shipping and Handling
This kit is shipped on dry ice, and shipping and handling are additional. For US orders, shipping and handling is $145. For orders outside the US, there is a handling fee of $50 plus actual shipping costs.  Please provide a Fedex account number we may use to bill the shipping costs.