Description
Cross-Reactive Material 197 (CRM197) is a non-toxic mutant form of the 58-kd diphtheria toxin that serves as a carrier protein for polysaccharides and haptens in a number of conjugate vaccines, to enhance their immunogenicity.
The effectiveness of this approach has been shown with Prevnar®, Pfizer's Pneumococcal conjugate vaccine, which contains CRM197 conjugated to weakly antigenic sugars to render the vaccine more immunogenic while maintaining disease specificity.
CRM197 is the product of a single nucleotide change in the diphtheria toxin gene to create a change from glutamic acid to glycine at position 52 of the protein, disabling the ADP-ribosylation activity of the A chain, thereby attenuating toxicity (Giannini et al., Nucl. Acids Res. 12:4063, 1984; Mekada & Uchida, J. Biol. Chem. 260:12148,1985).
At Scarab we produce CRM197 efficiently using a recombinant Clean Genome® E.coli host in our C-FLOW™ continuous fermentation system. This stable and robust process consistently produces CRM197 proteins that meet strict quality specifications, ensuring routine lot-to-lot consistency.
Scarab's research-grade CRM197 exhibits greater purity than those tested from other vendors by SDS-PAGE.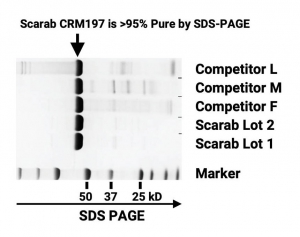 Overcoming non-disease antigen specific immunogenicity
There is evidence that CRM197-conjugate vaccines elicit an immune response to CRM197 as well as to the disease antigen. Such immune responses could then impair the effectiveness of subsequent injections of vaccines for the same or other diseases if these vaccines use the CRM197 conjugate. Therefore, future conjugate vaccines may need to deploy alternative protein conjugates. This is why Scarab Genomics also offers Protein D, which has been successfully used as a conjugate for example in GSK's Synflorix® vaccine.
CRM197 is for Research Use Only, Not for use in humans or as a diagnostic agent.
Specifications
CAS Number 92092-36-9
4 mg/mL in 150 mM NaCl, 25 mM HEPES, pH 7.4 via absorbance at 280 nm using an E0.1 % = 1.07 for a 1 mg/mL solution. 0.2 μm-filtered frozen solution, store at -70 °C.
> 95 % pure by SDS-PAGE
Endotoxin < 25 EU/mg
Conjugation capacity confirmed by a quantitative functional assay
Liquid formulation stable for >= 3 years at ??? °C
Immunogenicity confirmed by animal studies
Free of Methylation, Acetylation, Gluconoylation
A and B subunits < 5 %
Dimer < 5 %
Biosimilar to native CRM197 from Corynebacterium diphtheriae – amino acid sequence, mass spectrometry and circular dichroism analyses confirm the bioequivalence of Scarab's CRM197 made in Clean Genome® E. coli.
Handling
To minimize aggregation, thaw CRM197 in a 37 °C water bath for 1 hour.
Repeated freeze-thaw cycles can degrade material. To minimize freeze-thaw cycles, aliquot CRM197 to match desired use.
Handle product gently, DO NOT VORTEX.
Image credit: CRM197 mutant diphtheria toxin crystal structure 4AE1 as visualized using DNASTAR's Lasergene Protean 3D